Hang Your Artwork Like a Pro with These Tips and Idea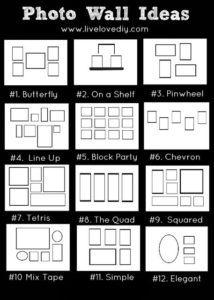 Do you envy the artwork groupings your neighbor has adorning her entryway and family room walls? Wish you could hang your artwork the same way for a different look? It's really not that difficult. Here are a few tips and ideas to get you that Leonardo Da Vince gallery look!
Decide Where to Place Your Artwork
Check out the wall space you need to fill to get an idea of the size of the artwork you need.
If you are filling a horizontal wall space, do a horizontal grouping. Do a vertical grouping on a vertical wall space.
Arrange your artwork grouping on the floor first to determine the layout. Trace and cut out the shapes of the pictures using plain package paper. Tape the paper shapes on the wall. Ensure the grouping is centered and spaced correctly.
When spacing even-numbered pieces of artwork, use a spacing of 1-2" for tight areas and 4-6" for normal spacing.
Materials Needed to Hang Your Artwork
Ensure you have the right picture hangers for the weight of the artwork. Use picture-hanging hooks, rather than heavy nails or screws. The picture hooks go into the wall on an angle, like a cat's claw—it's a whole different set of physics. There are three types. A one-nail picture hook holds things that are 30 pounds or lighter. A two-nail picture hook holds pieces that are about 50 pounds. A three-nail picture hook holds pieces that are about 75 to 100 pounds.
Use two picture hooks per artwork. Not only does this provide added security but it helps art remain level over time, compared to items hung from a single point.
When possible, install two D-rings, rather than a wire, on the backs of frames, to hang from the picture hooks. Then it's stationary and not swinging on a wire; there's no pendulum effect involved. Use a level and ruler to ensure that both the picture hooks and D-rings are aligned when installed.
Getting Down to the Nitty-Gritty of Hanging Your Artwork
When hanging pictures horizontally, you can use the width of your closed fingers to determine the spacing. Odd numbers of pictures in a horizontal grouping look more visually appealing 4-6" apart.
For a symmetrical placement, ensure the artwork is related to size, shape, and subject matter. In asymmetrical groupings, the artwork should be related in 1 way, like-colored frames, or all black and white images, the or all about one subject matter.
Art should be related in one way. If you have 4+ pieces of artwork, the grouping should be balanced. You should be able to draw an imaginary vertical line through the center of the arrangement.
Start with the largest piece of artwork in the middle of the wall area and place it at eye level, normally 57-60" from the floor when standing. In rooms where you do a lot of sitting, you can lower the artwork a bit more. Construct a rectangle or square with your grouping.
When hanging artwork above a piece of furniture or fireplace mantel, relate the artwork to what's below it. Hang the artwork 6-8" above the furniture or mantel. Artwork should fill space horizontally.
If you have high ceilings and wish to hang artwork up near the ceiling, make sure you can see it from across the room.
Adding Interest When Adorning Your Walls
Lean your artwork – it's easier to make changes and gives a much more casual look.
Hang framed objects. Place 3-dimensional objects on your wall and hang frames around them.
Hang empty frames. Hang empty frames and overlap them.
Hang 3-dimensional objects especially if related.
Add some interest by hanging an art grouping in a corner.
Remember – don't get wired about hanging your pictures! Try to hang your artwork using the ideas and tips mentioned.
What's your favorite tip to hang your artwork?
---
Interiors Revitalized is a full-service home staging, model home merchandising, and interior design firm located in Jacksonville Florida. In addition to Jacksonville, we serve the St. Johns, St. Augustine, Orange Park, Fleming Island, and Fernandina Beach areas. Contact us today at 904.625.2214 to discuss your home staging or interior design project. We'll make that first offer your best offer!
To receive more daily home staging and interior design tips, please "Like" our Facebook page.
Contact us today at 904.625.2214 to realize your dream room.