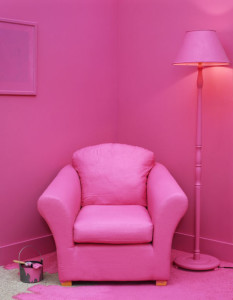 We sometimes receive calls from homeowners who are very unsatisfied with the paint colors they have chosen. These are some of the complaints we hear about their paint color mistakes:
Paint Color Mistakes You Don't Want to Make
"The white in this room looks dirty to me!"
If your room is bright and modern, white will lighten the room. Otherwise, it can look depressing. Generally, rooms facing south or west have more sunlight than those facing east or north. Opt for a mid-tone or dark color to embrace the lack of light.
"There's no contrast in this room. It's boring."
Don't try to exactly match your furnishings to your paint color because your room will have no interest. Choose a lighter or darker shade if you want to create a monochromatic look.
"The paint color chip didn't look like what I painted on my walls. It was very deceiving."
First of all, the color on the paint chip isn't really paint; it's ink. You really need to buy a small can of the sample paint that most paint companies now carry.  Paint two coats of it on a large piece of poster board.  Cut the poster board into four pieces. Attach one piece to each wall of your room and watch how the light affects the color throughout the day. Do not sample the color by painting it right over your existing paint because it will not give you the true look of that color.
"I need sunglasses in this room. It's too bright!"
Homeowners want to try a cheery color they see in a magazine in a tiny room. Once painted, the color overwhelms the space. Use brighter colors in well-lit, airy rooms.
"This is the color of the year. Isn't it supposed to beautify my home?"
Don't select a paint color because it's trendy. Select a color that you like or you won't feel comfortable in your home because it doesn't reflect your taste.
"I thought this neutral color would brighten this room, but it doesn't."
If you have lots of shadows in the room throughout the day, opt for a brighter color because the room will naturally darken your selection.
"I think I chopped my house up. It looks smaller."
Using too many different paint colors in a home will make it look smaller. Generally, it's better to paint everything the same color or make subtle color shifts by using different shades of a color. Highlight architectural features in your home with an accent color to distinguish them.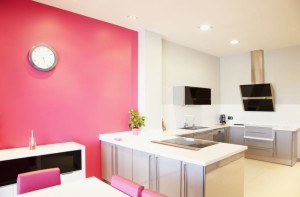 Color is a very personal decision. Think about the mood you want to create in your home. Consider the size of the room and the amount of light it gets. When selecting colors, stick to three so you don't chop up your home. Most importantly, test the paint color first before using it so you don't make any paint color mistakes.
---
Interiors Revitalized is a full-service home staging, model-home merchandising, and interior design firm located in Jacksonville Florida.  In addition to Jacksonville, we serve the  St. Johns, St. Augustine, Orange Park, Fleming Island, and Fernandina Beach areas. Contact us today at 904.625.2214 to discuss your home staging or interior design project.
To receive more daily home staging and  interior design tips, please "Like" our Facebook page